Lion cub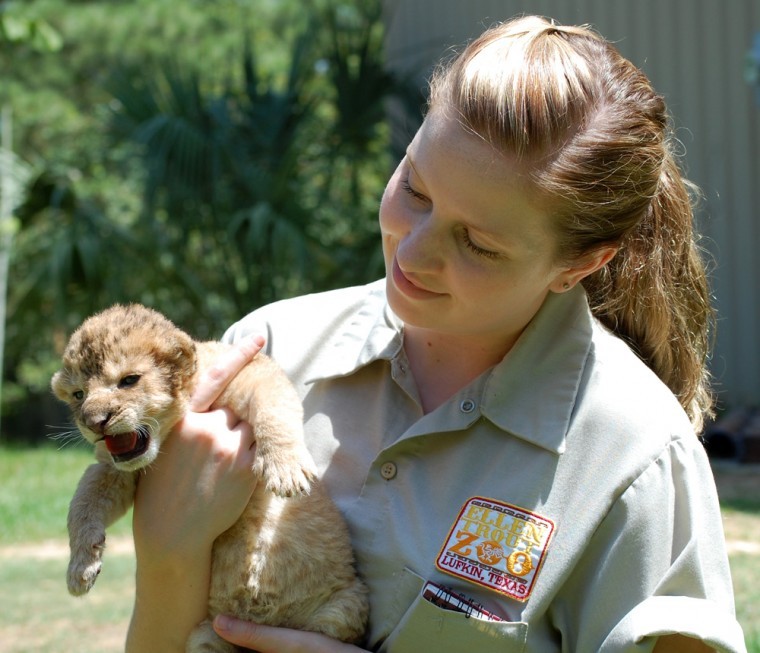 STEVE KNIGHT/The Lufkin News
Beth Wegner, a big cat keeper at the Ellen Trout Zoo in Lufkin, shows a male African lion cub, which was born at the zoo on Saturday. The yet-to-be-named cub is the first of his kind born at the zoo since the late 1970s.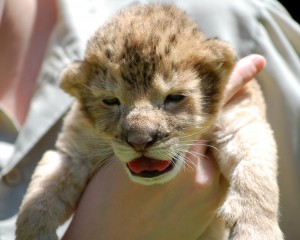 STEVE KNIGHT/The Lufkin News
Lion cub
This male African lion cub was born at the Ellen Trout Zoo in Lufkin on Saturday. The yet-to-be-named cub is the first of his kind born at the zoo since the late 1970s.
View all 3 images in gallery.
African lion fun facts

A lion's roar can be heard for a distance of up to five miles.

Although lions readily drink water when available, they are capable of obtaining all their moisture needs from their prey, and even from plants.

Lions can purr, but it is not very socially important for them. Unlike house cats, they can only make noise while exhaling.

Source: Atlanta Zoo
Posted: Thursday, August 2, 2012 4:00 pm | Updated: 11:21 pm, Thu Aug 2, 2012.
By STEVE KNIGHT/The Lufkin News
A new "king of the jungle" was born in Lufkin this past weekend.
Officials at Ellen Trout Zoo on Thursday announced the birth of a male African lion. The male cub, which was born on Saturday, is the first of his kind to be born at the zoo since the late 1970s.
According to Zoo Director Gordon Henley, the birth is the result of a recommended breeding by the Association of Zoos and Aquariums lion species survival plan for the zoo's lion pair. He said species survival plans help ensure the sustainability of captive zoo populations of animals while maintaining the desired level of genetic variability within the species.
"We've had lions all the time and didn't attempt to breed them, because of the supply and demand," Henley said. "When they began to formulate the species survival plan, that provided a system where we would have a sustainable collection of lions. It follows a plan for these targeted reproductions with the idea that those animals can be placed (at other facilities) in the reasonable future. That gives everybody an incentive to breed."
The cub has yet to be named, but some keepers have been unofficially calling him H.R.H., short for His Royal Highness, but Henley doesn't expect that name to stick. He said the new cub will be put on public display with his mother at some point, but for now, the newest member of Lufkin's animal kingdom will be kept and observed in a holding area, along with his mother and father.
"There are zoos that don't have certain animals, but I can't think of any that don't have a lion," Henley said. "The lion is just a staple in a zoo. You have to have a lion. They are a flagship animal, so we have to breed to maintain that."
Although they are one of the most popular animals with zoo visitors, they are classified as vulnerable by the International Union for Conservation of Nature.
According to the Atlanta Zoo website, male and female African lions stand anywhere from three-and-a-half to four feet tall, but males grow to be longer than females. African lions are anywhere from two to eight feet long, with an additional two to three feet of tail. Adult male lions can weigh between 300 and 500 pounds, and females can weigh between 250 and 300 pounds.
African lions formerly ranged from northern Africa to southwest Asia, west into Europe and east into India. However, because of population declines, their current range is sub-Saharan Africa.  http://lufkindailynews.com/news/local/article_0c1c7c1a-dce5-11e1-b04b-001a4bcf887a.html