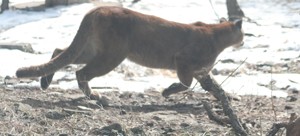 Hunters bag 14 lions to date
Lion hunters have killed 14 lions so far despite the lack of freshly-fallen snow. Pioneer file photo
Posted: Monday, January 9, 2012 9:31 am
By Mark Watson Black Hills Pioneer | 0 comments
BLACK HILLS — The lack of freshly fallen snow doesn't seem to hamper mountain lion hunters' success in the early days of the season. They may have to work a bit harder than normal.
As of Monday morning, the South Dakota Game, Fish and Parks reported 14 lions had been killed in the 2012 hunting season. Nine lions are female.
The number killed is just off pace with the 2011 season, when the Black Hills received a fresh blanket of snow on a weekly basis during the first weeks of the season.
By Jan. 9, 2011, 18 lions had been killed. The number killed this year is higher than in 2009 when eight had been killed by sunset on Jan. 8; and in 2007 when eight had been shot by the evening of Jan. 4.
On Saturday, a 3-year-old female was killed in Lawrence County.
On Sunday, two lions were shot — a 2-year-old in Custer County and a 5-year-old in Lawrence County.
Thus far, seven of the 14 lions were shot in Custer County, five in Lawrence County and the remaining two in Pennington County.
According to GF&P survey results, 81 percent of hunters use a call and 71 percent of hunters use freshly fallen snow to track lions. Of the 39 successful hunters who responded to the state survey, 95 percent used the snow and 87 percent used calls.
Now in its seventh year, GF&P has increased the lion hunting quota at 70 lions or 50 females in an effort to reduce the Black Hills mountain lion population.
Currently there are approximately 225 lions in the Hills, and the GF&P wants to trim the lion population to about 150-200 animals.
The 2012 season will close on March 31 if the quota is not reached.
Hunters are required to present lions killed to the GF&P within 24 hours. Call (605) 394-2391 from 8 a.m. to 5 p.m. on weekdays, or State Radio at (605) 393-8121 during nights and weekends to make arrangements to meet a GF&P representative.
Check in at the Rapid City GFP Regional Office (4130 Adventure Trail at the site of the Outdoor Campus West) or at the park headquarters at Custer State Park.
Hunters are also encouraged to check the status of the hunting season prior to leaving for the field. Hunters who kill lions after the quota is reached may be cited. They can check the status by visiting http://gfp.sd.gov/hunting/big-game/mountain-lion-season-harvest-status.aspx.
http://www.bhpioneer.com/local_news/article_b7636f00-3adf-11e1-8d8d-0019bb2963f4.html